BIG DRAW 2018

STOKE BRUERNE CANAL PARTNERSHIP: SEEKING VOLUNTEER HERITAGE WALK LEADERS


Our next Task Day


Once again we will be having a Big Draw Day on the Green next to the Canal Museum at Stoke Bruerne during half-term week. It will be held on the 24th October between 11am and 4pm.

It's FREE but there is a charge of £2.50 for parking in the Museum Car Park.

This year's theme is PLAY and there will be plenty of inspiration to be found along the canal corridor. All drawing and painting materials are supplied and there will be a a visiting artist to help and guide you. This isn't about being gifted or professional - it's about having fun. Just come and enjoy yourselves - and it's FREE.

If you'd like to take part and would like more information, or would like to sponsor our event - please telephone Lynda Payton on 01604 862501 or email
[email protected]
Do you have an interest in the history of local places? Do you like sharing your interest with others? Do you like relatively easy walks which allow us to better understand our heritage? If the answer is yes, then you could be just the person we need!

From time to time during the summer months the Stoke Bruerne Canal Partnership organises short/medium walks within and around the Stoke Bruerne Canal Corridor. These walks are led by volunteers who have local knowledge of the canal heritage in this area. New volunteers are needed for this rewarding role. Full training and information would be provided – all we need is enthusiasm, the ability to walk up to 3 miles on public footpaths across the countryside and a few hours of your time perhaps twice or three times a year.
If you are interested to find out more, please contact Helen Westlake, Chair of Stoke Bruerne Canal Partnership at
[email protected]
It would be great to hear from you.

'This is a 'call to tools' for the Adoption Group on 14th November. Meet first at the Museum car park for a briefing at 9.30 am.

Additional volunteers warmly welcomed!! Come for just an hour or as long as you like. To learn more about what we do see our
Adoption Group
page.
All materials and tools and gloves are provided, along with safety equipment etc. Please wear clothing which isn't your most precious, as painting can lead to the odd mark or splash. Alternatively, an old over shirt as protection might be good. As usual, please wear stout shoes / boots.

We will supply tea and coffee and biscuits during the day. Bring a packed lunch if you wish.

There is a portaloo alongside the lower lock landing area.

Please contact Rob on 07860 927368 for more details if required.


Our adoption group meets

once a month

New information pack for boaters arriving at Stoke Bruerne

Waterways on Prescription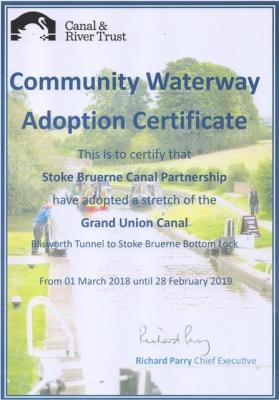 Stoke Bruerne Canal Partnership led by member Kathryn Dodington working in conjunction with the Canal and River Trust has published a leaflet containing local area information for boaters arriving at moorings in Stoke Bruerne.

The leaflet gives handy information on local services such as doctors, pharmacies, shops, restaurants, pubs, bus services and much more.

The leaflets are currently available from the Canal Museum, and will be distributed to boat hire companies. However it is hoped they can shortly be dispensed from clear perspex boxes at key boater facilities such as water points.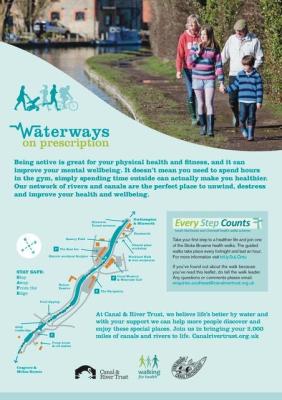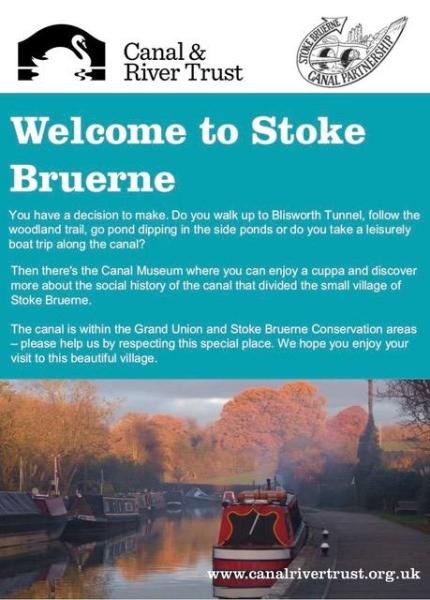 Inspired by the health walks led by late Partnership member and resident of Stoke Bruerne John Smith along the canal corridor in Stoke Bruerne, member Kathryn Dodington working in partnership with the Canal and River Trust and Roade Medical Centre,  has developed a scheme to encourage the use of the waterways to promote health and well being.

The scheme is to be trialled by doctors at Roade and other local surgeries with leaflets, posters and a pack of prescriptions. Doctors will dispense information to patients they consider will benefit from getting out and about on the waterways.

We all know that regular exercise is key to living a happy and healthy life, but there is evidence which shows that being beside water can also increase our sense of well being, de-stress us and  help with our mental health.
Canals with their largely flat and level towpaths are accessible to most people, even those with heart and lung conditions, and walking can help with long term conditions such as diabetes, high blood pressure, obesity and chlorestrol.

The best bit is, it's free.